A business without a website is like a cowboy without a horse. A website is probably the most powerful marketing tool a company can have. It not only establishes the credibility of a business but it also provides increased visibility. We primarily focus on fully responsive WordPress sites (meaning the site adjusts to the device on which you are viewing it) but if you need something custom or from scratch we have the resources to do that too.
Below are some of the sites we have done ourselves as well as some that we did the creative direction in partnership with other web companies.
We also do website maintenance for several clients, including: The Ensemble Theatre, Christie's Seafood, All Play and several sites for Industrial Fabrics, Inc.
PROMOSLEEVE
This has to be our most exciting project ever! Working with (twins) Roy and Lucas Bouse we got in on the ground floor of a new and exciting product that we know will be a big hit. We designed the site and are working with Bryan Van Devender with the WooCommerce and Web-To_press integration. Check it out... and order some sleeves!
HAMACA TURQUESA
Hamaca Turqeusa (Tourquoise Hammock) is a BEAUTIFUL luxury rental home on the Caribbean. A few years ago a friend approached me about doing a logo and website for their home they were building on Isla Mujeres, Quintana Roo, Mexico. Not only did I do the work, but I also was able to take a vacation and stay there. Looking for a luxury getaway? I highly recommend!
HOLD 'EM & HIT 'EM CLUB
Hold'Em & Hit'Em Club (HHC) is a 501(c)(3) charity that suuports youth and education by purchasing animals and school art at the Houston Livestock Show & Rodeo, supporting our surrounding County Fairs, and as a donor to the San Jacinto College Fund. They raise money throught the year with our various fundraising events. Not only did I do the new website, but I am also a memeber.
HORTON RA
I think we may have impressed Laurence Horton when we helped with the development and branding of "District West", a retail, restaurant, office and medical development in West Houston. We were the first company he contacted to do him a new website for his personal real estate business.
CASA DE VISTAS
After doing the website for Hamaca Turquesa, I had a very nice referral to do the website for some friends of the owners who had just purchased and renovated another vacation home on Isla Mujeres. I have not had the chance to check it out personally, but based on the photos (and the website, of course) I plan on getting down there soon!
PERSONAL PEDIATRICS OF HOUSTON
Working with Dr. Barbara Taylor-Cox was one of our funnest working relationships. She described what she was looking for, but pretty much gave us free reign on the design. Elegant, but with a fun "kid" element since her company is Personal Pediatrics of Houston.
LONE STAR DEVELOPMENT
I had the honor of working again with the genius that was Bubbles Car Wash, Bill Lawrence. It has been a few years since he sold that Houston treasure, but he and his son Matt are embarking on a new venture in commercial development. We not only did their website, but logo, business collaterals and several other items. Best of luck Bill and Matt!
RADIO BRAVE
Working with Broadcast industry veteran Doug Harris (Noisemaker Communications) we created this fun website to act as a launching pad for podcasters who wanted to connect with adventurous listeners. Radio Brave offers podcasters (and the "podcast-curious") turnkey management and delivery of their content via on-demand podcast platforms AND a 24/7 digital broadcast channel!
THE PIT ROOM BBQ
When Michael Sambrooks called about his new restaurant he was wanting to open we were all over it...especially when we learned it was going to be Texas hand-crafted bbq! From the logo, to the signage, the menus and this website, we have been able to help being his dream to life. We HIGHLY encourage you to drop by and try it... its good. We promise! **UPDATE: The pit Room started working with another marketing company that had its own web people. Although much of my original vision still exists on the site it no longer has the "wow-factor" that it once had.**
LEVA LIVING
When we were introduced to the folks over at Leva Living by Doug Harris (Noisemaker Communications) we were more than a little excited to help a new company get its feet on the ground with a branding package that included a website, 4-page brochure, folder and Powerpoint template.
6 FOOT MOM (Splashpage)
Grace Courtright (aka 'Six Foot Mom'), will soon be launching her podcast career as she shares her life, adventures and what she has learned and is learning as a single mom. "The world has many 'six foot moms. Any mother that makes it through the day—any day—with her family safe, her sanity intact, and more hope than fear in her heart, stands six feet tall."
OLD WORLD WINE
Old Wolrd Wine was a wine shop in the Clear Lake area. We had the honor of working with Bobby Breaux and Sneaker Interactive to create the look and feel of the website. From the beginning we wanted a fun, yet elegant interface....and we think we nailed it.
BUBBLES CAR WASH
Working with Doug Harris (Noisemaker Communications) and Bobby Breaux (Sneaker Interactive) we were in charge of the creative direction of the websites for Bubbles Car Wash and Bubbles Express Wash. Bubbles sold to Mister Car Wash a few years ago but will always be one of our favorite clients!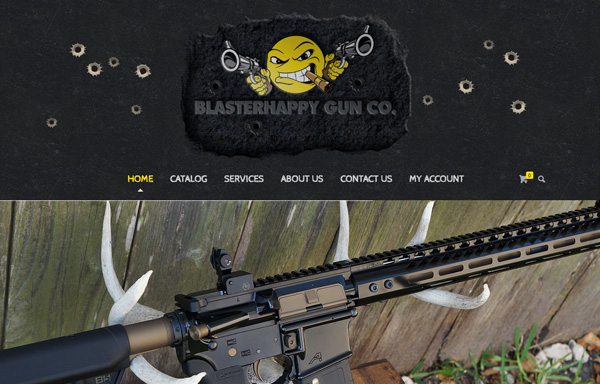 BLASTERHAPPY GUN CO.
Firearm Building & Coating
BLASTERHAPPY GUN CO.
When long time friend and U.S. Army veteran Trey Frederick was out of work for a while, he decided he wanted to start a gun company. He had the name for years, but finally wanted to get started. The online store is in its early phases so keep a lookout for updates!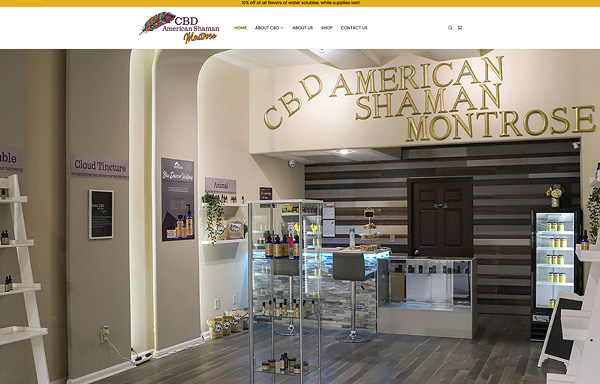 CBD AMERICAN
SHAMAN MONTROSE
CBD AMERICAN SHAMAN MONTROSE
When an aspiring entrepreneur and his wife wanted to start an American Shaman franchise in the Montrose area of Houston they were referred to us by another client! We took styles and fonts from the corporate site... and improved on them!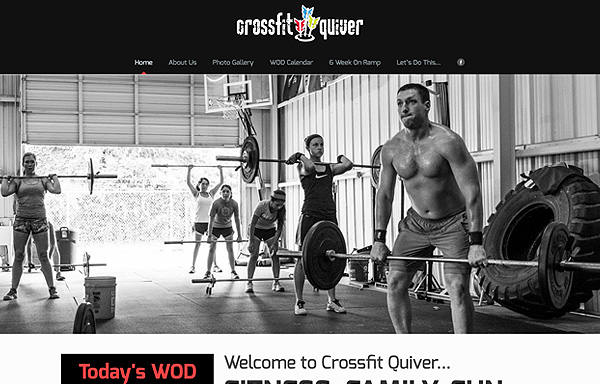 CROSSFIT QUIVER
Fitness. Family. Fun.
CROSSFIT QUIVER
This was our first complete website to completely do from start to finish. Working with Crossfit Quiver's owner Mark Dronka was fun to say the least... except for the hard WODs (workout of the day) he put us through. We were very please with the result... it interacts seamlessly with Facebook to list the daily WOD and works with Wodify for the Wod calendar. Now give us 10 more burpees!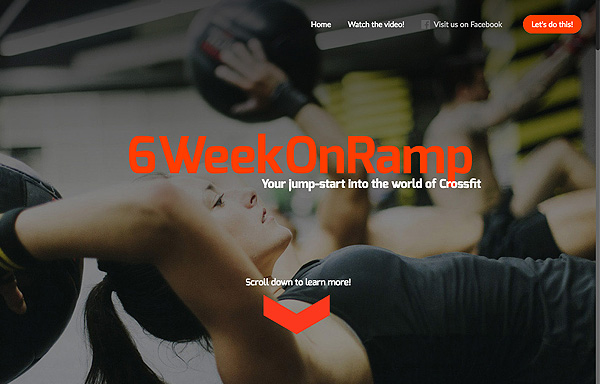 6 WEEK ONRAMP
A Jumpstart into CrossFit
6 WEEK ONRAMP
6 Week On Ramp is a program through Crossfit Quiver in which those who are interested in Crossfit can take a six week introduction - learning form and function, developing flexibility and slowly building up to the more difficult workouts. We had to take a (temporary) break from it since we are getting old...but we'll be back!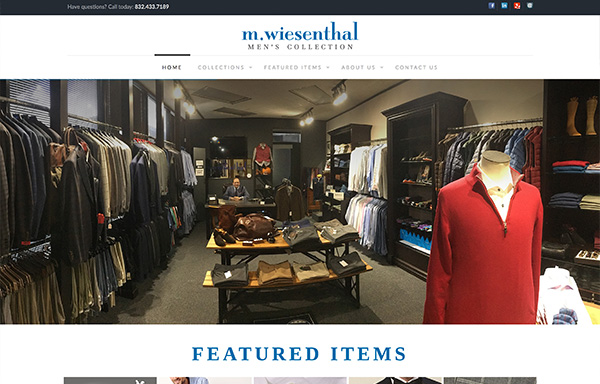 M. WIESENTHAL
Men's Collection
M. WIESENTHAL MEN'S COLLECTION
When Michael Wisenthal (of the Harold in the Heights family) called and wanted to bring his website into the 21st century we were glad to help! We kept the "feel" of the old site, but added our own sense of flare, created a cleaner layout and, of course, made the site responsive for all viewing options.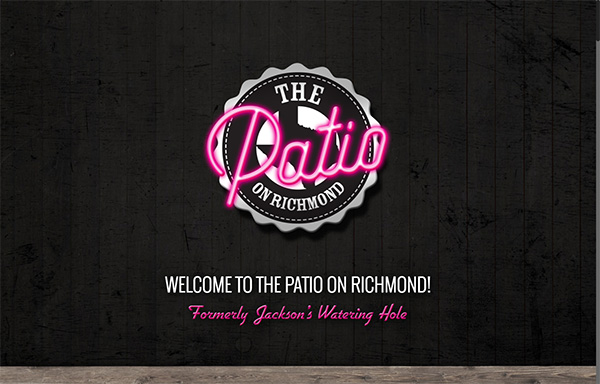 THE PATION ON RICHMOND
Formerly Jackson's Watering Hole
THE PATIO ON RICHMOND
When Michael Sambooks was building The PIt Room BBQ, he never thought he would also be acquiring the old Jackson's Watering Hole next door. This website for The Patio On Richmond has the same personality as the site for The Pit Room, but represents the name change and new branding. Stop by and have a cold one!
CALL TODAY & LET'S GET STARTED!
832.443.8665